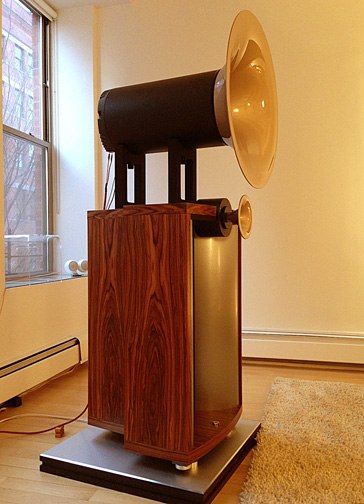 Avantgarde Barrio on Super Plus
The handsome Avantgarde Barrio, a three-way all horn system, on a Super Plus Platform. As fortunate audiophiles have found out, NO footer devices at any price (including our own!) are superior to a full Super Plus platform when you're treating loudspeakers (and other things). If you're serious about getting the very best sound from your loudspeaker investment, a Super Plus Platform, properly deployed, will elicit the last word in your loudspeaker's performance, with unsurpassed bass quality, dynamics, immediacy and bloom. Avantgarde owners have long known that Symposium platforms under their horns and woofers improve coherency, dynamics and bass clarity; for some unsolicited comments from happy Avantgarde owners, please click here.
For a larger view of the speaker, please click on the picture.