SYMPOSIUM
®
Rollerblock Upgrades
Symposium offers, whenever possible, upgrade of its existing or prior models to current standards. Please select any of the upgrades to the Rollerblock series below for further details.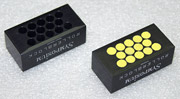 Rollerblock Upgrades
Upgrade original Rollerblocks to current Series 2+, or refurbish older Series 2 bodies
brings original Rollerblocks to Series 2+ standards

Grade 10 Tungsten Carbide Upgrade
Improves performance over standard chromium steel (supplied) balls OR older Tungsten Carbide Grade 25 balls (supplied before 2001)
recommended for most systems

The Superball Upgrade
Brings Rollerblock performance to an entirely new level!
the ultimate state of the art

---
Home |
Products |
Technology |
Reviews |
Dealers |
F A Q |
Set Up Tips |
The Gallery |
What's New |
About Us |
Feedback |
Privacy Policy |
Contact Info
Copyright © 2015
Symposium USA, Inc.