ROLLERBLOCKS
Our super-precision, ball bearing isolation Rollerblocks make improvements in system performance unmatched by any other isolation devices. SYMPOSIUM introduced the bearing isolation device for active components with the original ROLLERBLOCK in 1997. Constantly improved since then, we make the finest ball bearing isolation devices anywhere - because when it comes to ball bearing isolation for audio and video, we wrote the book.
From our best Series 2+G3 systems to entry level "Jr," Rollerblocks will bring your system to a new level of performance!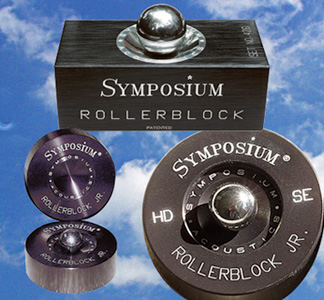 Rollerblock Series 2+

The highest resolution footer in the world

Rollerblock Jr. HDSE
Superb results at an intermediate price

Rollerblock Jr.
"Son of Rollerblock" is easy to use, effective, and affordable
Series 2 UPGRADES

Bring your older Rollerblocks up to present specs