SYMPOSIUM® Shelves and Platforms


The Segue Platform
Our NEW Segue will make you rethink what's possible for a low, entry-level priced platform.


The Segue ISO
Unsurpassed vertical isolation quality for turntables - at a bargain price.


Svelte Shelf
If vertical space is an issue, the Svelte Shelf has no peer.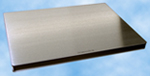 The Svelte PLUS
Big brother of the Svelte Shelf, with double the damping and isolation power.

The Super Plus
Our first product's direct descendant and the reference platform for loudspeaker treatment.

Ultra Platform
With no leveling problems or weight limits, the classic Ultra brings out the best from all components.

Quantum Signature
Stronger, sexier, and newly redesigned with LDSS suspension, the Quantum Signature is our no-holds-barred reference platform.

---
Home |
Products |
Our Technology |
Reviews |
Dealers |
F A Q |
Set Up Tips |
The Gallery |
What's New |
About Us |
Links |
Privacy Policy |
Contact Info |
Copyright © 2014, Symposium USA, Inc. All rights reserved
Designed by Symposium; shell design and flash page by
REMO Web Studio